She squeals. Utterly frustrated. At just two years, she cannot accomplish what the elder brother and cousins do with ease. Red-faced and teary-eyed, she petitions mother for assistance. Mother knows that time passes quickly and soon elder brother and cousins and baby girl play alike.
Repetitiously, mother teaches and trains. She claps and praises. Baby girl stumbles, cries, and tries again. The natural process of "growing up" occurs.
Her body elongates and her knowledge increases. She passes through stages, but similar to others, not accelerated beyond norm. The process might appear quick to mother, but it is through only one step at a time. And baby girl changes right before mother's eyes.
"Wisely, and slow. They stumble that run fast." – William Shakespeare
For mother, change represents the difficult. Mother desires to rush it. "Lord, make me anew. Mold me into the image of Your Son."
Heavenly Father knows, though, that time passes quickly and He will grow mother into the likeness of Brother. For Heavenly Father is faithful to complete the work He began.
"But Heavenly Father, see only Brother in me," mother prays.
"I do see only the righteousness of My Son in my daughter," Father replies. "This is grace. This is forgiveness. This is unconditional love."
Mother embraces joy and receives the gift of freedom. And now, she studies in the school of sanctification. As a faithful student, she listens to the Master Teacher. She memorizes. She asks questions. She researches. She understands that she does not know it all. She is a young student who must continue with many courses.
Mother knows she receives the diploma in the end. Brother earned it in her name. But she needs to be like Brother to honor Heavenly Father. It is required of daughter. Slowly, she works through the classes. The Helper faithfully tutors her.
Along the way, she develops some poor study habits. "Old habits die hard and you cannot teach an old dog new tricks." But thankfully, mother is a daughter, not a dog. Brother, as Master Teacher, persists with her.
She learns the new way and relinquishes the former. She discovers change. Mother teaches baby girl the new way. Heavenly Father knows time passes quickly.
"Therefore, if anyone is in Christ, he is a new creation; old things have passed away; behold, all things have become new." 2 Corinthians 5:17
Mother stumbles, but she stumbles slowly now. In Him, she rises again.
Moment by Moment in Jesus,
Brooke
For developing new habits in the new year, slow down and learn of Him. You may wish to read:

For more on the Practice of Habits, visit: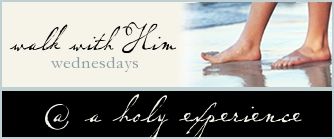 **************************************************
Thanks for reading. I invite you to connect your Christ-honoring blog with mine.
Powered by Linky Tools
Click here to enter your link and view this Linky Tools list…