While traveling from Ohio to North Carolina during childhood, I remember visiting some caverns around the Pennsylvania area and peering over a ledge into a running stream underneath a tourist gift shop entry. As my mother pulled me back from the flimsy rail, the guide spoke of the bottomless pond and told horrific legends of Native Americans swept away in this dark hole.
Don't the circumstances of life sometimes feel like a bottomless, dark hole?
Why and How? Noticeably…two favorite questions common to all mankind.
"Why are You allowing this God? Why is this happening to me?"
"How will I endure this adversity? How do I continue with this present suffering?"
Bowing before Him, on the toughest days, I pose these questions. As I continue in this walk with Jesus, the Lord shows me that the better questions are "What and Who?"
For the moment all discipline seems painful rather than pleasant, but later it yields the peaceful fruit of righteousness to those who have been trained by it. Hebrews 12:11
Through many adversities, I recognize the battle that surfaces as the enemy of my God plants seeds doubt regarding the justice of God as well as the lie that He must be angry and is disciplining me out of wrath. Nevertheless, growing up without a father, my loving and patient Heavenly Father must train me in trust. He teaches that when the winds of adversity blow, He neither abandons nor tires of laboring. He is near to the brokenhearted. On my own, I am destined to fall.
When the accusing attacks of the Devil surface, the gospel of grace supplies a good part of the armor of God. I must wear the armor…especially the helmet of salvation as well as the belt of truth. As Jerry Bridges encourages in The Discipline of Grace, I must preach the gospel to myself.
"It is the gospel that will reassure us that the penalty of our sins has been paid, that God's justice has been fully satisfied."__Jerry Bridges
Because I long for relief, I cry out, "Why?" and then, "How?" If I maintain these outbursts, I may lapse into anger with God or a form of idolatry where longing for the answer becomes paramount. Often, God's purposes remain unknown to me.
What we do know is that God is love and He disciplines those whom He loves. Is all discipline a result of sin? Absolutely not! Nevertheless, we are still required to yield to the discipline. A purpose God reveals to us in suffering is that He desires to produce godliness…holiness…Christ-likeness. Does yielding mean that we cannot pray for a favored outcome? Of course not!!!
But Jesus looked at them and said, "With man this is impossible, but with God all things are possible." Matthew 19:26
Therefore, when facing trials, I continue to ask for the favored outcome and now pray, "What would You like to accomplish in me, Lord?" and "Who might I share these truths with?"
Certainly, I lapse into the "why" of it all. It is then that the Lord grants peace and hope through the words of the apostle Paul…
"For I consider that the sufferings of this present time are not worth comparing with the glory that is to be revealed to us." Romans 8:18
Furthermore, it is by His sufficient grace that I am enabled to endure hardship. God's grace reaches to the deepest, darkest abyss. We know there is a bottom to every body of water named "bottomless." The end may not be visible to us, but God sees it. God's plan is that one day, there will be an end to suffering. Today, we must live by His grace.
As you are clothed in hardship, won't you wear the habit of endurance with the gift of His grace?
I am praying that you run this life race well, my friends.
Moment by Moment in Him,
Brooke
For more on the Practice of New Habits, today, the lovely Ann Voskamp shares Seven Ways to Keep Your Home Strong.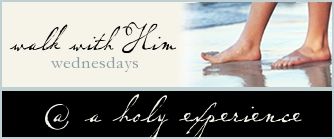 For further study and a deeper explanation of these truths, read